St. George Spirits:
Alameda-based St. George Spirts makes three different award-winning vodkas – All Purpose Vodka, California Citrus Vodka, and Green Chile Vodka – often from California-grown ingredients.
Corbin Cash: Atwater-based Corbin Cash makes award-winning vodka out of sweet potatoes. I haven't tried it yet. But I will.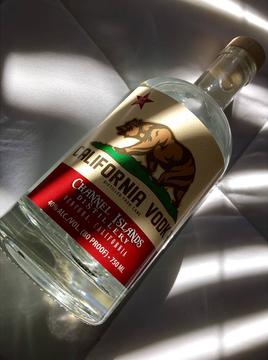 Channel Islands Distillery: Ventura-based CID makes small-batch vodka.
Loft & Bear: Los Angeles-based Loft & Bear focuses exclusively on making vodka.
Cutler's Artisan Spirits: Santa Barbara-based CAS makes a small-batch, award-winning vodka.
Greenbar Distillery: Los Angeles-based Greenbar Distillery makes organic vodka in their downtown-L.A. distillery.
Bear & Eagle Products: Santa Ana-based Bear & Eagle specializes in traditional and flavored vodkas.
Saint James Spirits: Irwindale-based SJS distills a lime-flavored vodka.
Bay Area Distilling Co.: Brentwood-based BADC makes award-winning vodka and whiskey from locally sourced sweet corn.
Ventura Spirits Company: Ventura-based VSC focuses
on crafting spirits made from unusual, locally grown, and organic ingredients. Their California Vodka is made from California-grown strawberries, and fermented, distilled, and bottled at their Central Coast distillery. It is not a flavored vodka -- it's a neutral spirit distilled from strawberry wine.