Timbuk2 San Francisco:
Timbuk2 makes bags for Northern California urbanites. They build sleek, durable, and fad-proof, usually in muted colors that hide stains well. Their messenger bags are designed to carry the essentials of a day out in the City -- water, a laptop and charger, some books or notepads, a smart phone, a few pens, a hoodie, and a snack -- and to withstand the City's sticky-gritty abuses, like absorbing biker sweat, being stuffed under a BART seat, waiting on the beer-stained floor under a bar stool, and baking/soaking/abrading at Burningman. I've never been a bike messenger, but I assume that they also work well for delivering packages.
Cydwoq:
Burbank-based Cydwoq makes bags that remind me of driftwood -- sculptural, smooth, simple, and pleasing to the eye, in a craggy sort of way.
Marcopolini:
Campbell-based Marcopolini imports high-quality, hand-made leather goods from Italy, including high-end messenger bags.

I own a Marcopolini key wallet (which, for those who don't know, is a keychain that stows your keys inside a coin-purse-like wallet, so your keys don't punch holes in your pockets).

It is extremely well made, and its leather keeps looking better as it ages.
Zeyner
To me, Balwin Park-based Zeyner's messenger bags looks more like man purses.

But it's an awesome man purse, with top-shelf leather and
handmade-chrome-jewelry hardware, stitched together by someone who wanted this case to last forever under all circumstances. I do not own a Zeyner messenger bag, but my Zeyner briefcase remains one of my most prized possessions.
Glaser Designs: San Francisco-based Glaser makes flaptop bags to order for "executive travelers," which I think means wealthy professionals who spend a lot of time on planes.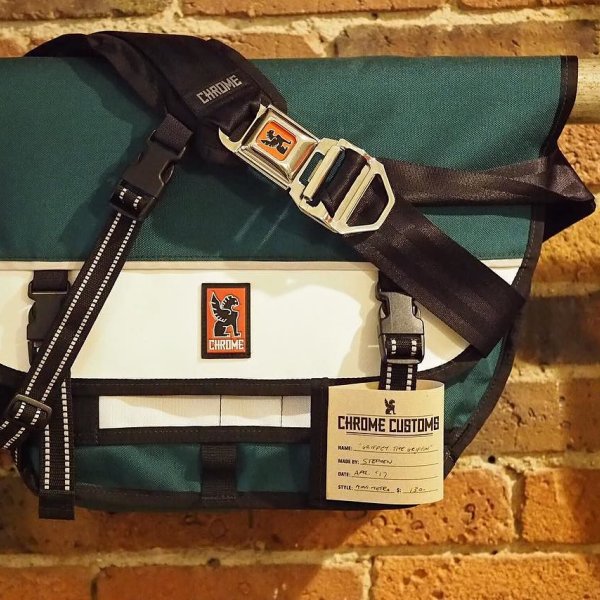 Chrome: When I lived in the real Bay Area (i.e., the Bay Area in which you can see the Golden Gate and/or Bay Bridge with minimal effort), Chrome was the most ubiquitous brand of messenger bags and backpacks. I've never heard a Chrome owner complain about his or her bag. Now, they've started doing custom work.
Acorn Bags: Southern California-based Acorn actually doesn't make bags for bicycle messengers. Instead, they make bags for bikes; e.g., bags to strap to your handlebars, or bags to fit in your bike's basket.
Honorable Mention In Waiting -- Seagull Bags: One of the great consumer tragedies of the 2016 election cycle is that Ohio turned against California, taking Columbus-based Seagull Bags off my messenger-bag-buying table. Most messenger bags are all-purpose bags that can be slung across your back while you ride a bike. Seagull's bags, in contrast, are built for biking -- period. If you're not on a bike, then you shouldn't be carrying a Seagull -- these things are way over-engineered to substitute for a backpack. But if your goal is to carry bulky objects for long distances while riding a bicycle, then a Seagull is the best tool for the job. So hold your breath, California, and hope that Ohio comes back to the Light.