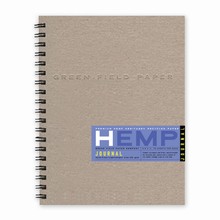 Greenfield Paper:
San Diego-based Greenfield Paper has found a variety of ways to make paper products without cutting down trees.

Their offerings include journals made from hemp paper.
Marcopolini:
Campbell-based Marcopolini imports high-quality, hand-made leather goods from Italy, including leather journals.

I own a Marcopolini key wallet (which, for those who don't know, is a keychain that stows your keys inside a coin-purse-like wallet, so your keys don't punch holes in your pockets).

It is extremely well made, and its leather keeps looking better as it ages.
DODOcase: San Francisco-Based DODOcase focuses on crafting things to put other things in, like iPad cases and wallets. They also make some nice-looking journals.